Im in Love with a Broad Street Bully
Summary
Maxine Walker was just your regular college student that resided in her apartment with her two dogs. She lived a normal life going to school, hanging out with her friends, watching her beloved Philadelphia Flyers, and being with her family as much as possible. Well that was all true until she left her phone at a Starbucks cafe and had it returned to her by a man named Sean.

Will this just be a one time thing or will Maxine find herself falling in love with a Broad Street bully?



Characters

Maxine Walker
21 year old. Junior in college, big hockey fan.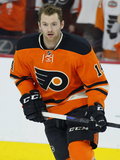 Sean Couturier
Chapters