Flying Home
Summary
Jonathan Toews and Madeline Thomas have been dating for just over two years. But for one of those years, Maddie disappears without any contact of known whereabouts. When she returns she's been beaten and bruised but refuses to tell Jonathan what happened.

That's the last straw for Jonathan and he decides he has to let her go because she can't seem to be honest with him about anything.

She's torn between losing him and revealing her secret. Which will she choose?

NOTE: I recently decided to take a hiatus from this story but I have decided to continue. I am in the process of rewriting it - so watch for it! It's going to be better than it was before! I wanted to add more pre-relationship between Jon & Maddie!
Characters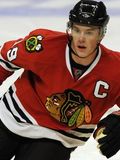 Jonathan Toews
#19 and Captain of the Chicago Blackhawks, but you already knew that.
Chapters